Attending Art Classes – Being an Art Student - February 2018
If you have ever attended one of my classes or one-one sessions and then asked to describe me and my teaching technique (and you wanted to be polite), you would describe it as a 'different' experience. For the majority, it is a positive experience, however, my radical technique is not for all, as I never tell a student what to do… This blog will explain what I mean by that statement, but it is also a blog for everyone, whether you are in mainstream education or not. I hope my advice will help your approach to your creative career, both amateur and professional.
I endeavour to teach a technique, idea or theory and then the student has the option on whether they wish to use that information in their own work or not. This helps students create their own style, technique and way of working. I want to empower the student to be independent in their creativity and give them the confidence to create what they want, how to correct mistakes and be brave enough to challenge themselves and create their own artworks rather than copying from others. This is not a technique I use just for adults, but children too; you are never too young to learn the fundamentals.
I am distinctly different in this way of teaching, as I do not dictate but show and encourage. This is therefore not ideal for those students who simply want to be told what to do and how to do it. I will demonstrate a technique, but it is up to the student on what they want to draw or paint. I want my students to take a playful approach to their work and experiment with the technique I have shown them. There is no right or wrong. Many art classes show how to create a drawing or painting from start to finish and deviation from the technique is not encouraged. This is not a bad thing, but it won't help to develop a student's creativity, they will learn how to draw/paint a specific subject using one technique in a specific material. If you are a complete beginner this can be useful because you need to collect techniques; the more the merrier. It is not that I don't teach techniques, I do, but I teach them the traditional way and I cover how various artists make and break the rules, and deviate from the technique that I am teaching. If artists did not break the rules art would never progress, and new quirky ideas wouldn't be found (to the extent in which they can be). I refrain from discussing post-modernist theory here, as that is a whole separate blog!
My advice to the art student is absorb, but don't follow religiously. Each and every art lesson you attend is a benefit to you. You are collecting ideas, viewpoints and techniques for your art technique arsenal. Same with "how to" books, they are all great for the same reason. BUT! All this information you accumulate, none of it is gospel, it is merely a demonstration of an idea, technique or theory. Artists (can be) a little opinionated and of course we need to be. We have developed our own style, we know what we like, and dislike and we have essentially created a body of artwork like a brand, and we need to stand by our brand to sell it, that is the way of the world. Artists tend to be very passionate about their opinions and what they believe in, which can make them very persuasive. So, the eager student is in danger of turning up to a lesson and believing everything and going along with everything the tutor says, and ultimately they shouldn't, they should question, and realise that this is just one viewpoint in a multitude of many. For example, when I teach pen and ink, I only teach one technique at a time, this is mainly due to time constraints and giving each session a focus, however as you will see from all the images below (these examples are not exhaustive of all the pen and ink techniques), the pictures are vastly different because they are using many different techniques.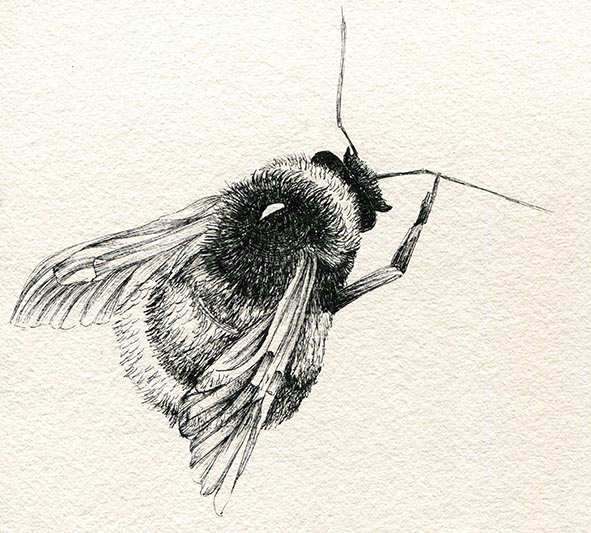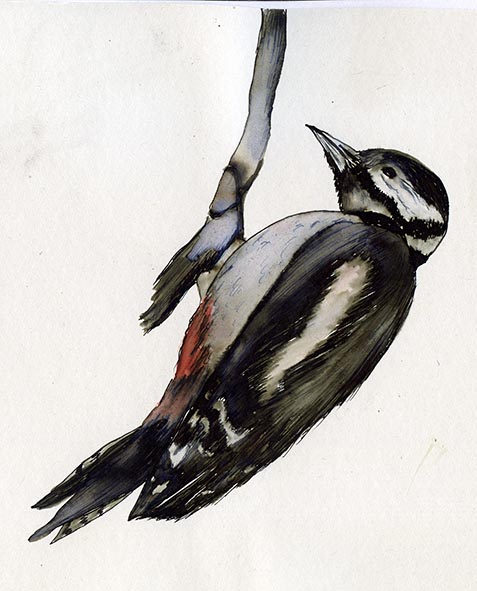 I tend to use the pen only technique the most, as shown in the Bumble Bee picture, but this is for ease because I tend to draw from life once a week. This allows me to explore the form and the detail within the subject, with a view to developing it into a painting. I find a 0.25mm Rotring pen is fine enough for me to include detail, which is not so easily achieved with pencil or a fibre tip pen. I love working with just my Rotring pen, but this is my preference and part of my creative process which I go through to create art works. As part of my creative process, I like to spend half a day a week in the studio experimenting (not always possible due to time pressures), as I believe it is important for every artist, whether professional or amateur to have the freedom to play. Now, using the term 'play' I do not mean that it isn't work and has no benefit, because I believe it is crucial to the creative process. The idea is that you go and make for making sake. Don't worry about the next exhibition or the next assignments deadline where you have to do specific things to reach your target. Give yourself the freedom to experiment, take a technique you have recently learnt and mix it with another, try it in a slightly different way and have some fun. On these half days, sometimes I create utter rubbish which the bin is too good for, and on other days I strike creative gold. Importantly, I let myself take the risk, because without this, I wouldn't create anything new, or move forward. As an artist, if you are not experimenting outside your comfort zone, you are static and not moving forward. If you are not moving forward, you are potentially boring yourself and your audience.
In summary, be brave, don't take everything you learn as gospel, it is only one way to do something not THE way. Experiment, have fun and remember, being out of your comfort zone is progressing! Most of all, love what you do, if you don't love and enjoy it, you won't achieve anything at all and remember a tutor's viewpoint is only one point of view, if you don't like it, find another! Happy creating!
If you would like to know more about my tuition please contact me on art@claire-harrison.co.uk For regular updates on my art work, tuition, special offers and other arty info please sign up to my newsletter by clicking here.