2020 - A Reflection...
2021 has arrived, phew! Each year, I review my life goals and reflect upon what I have achieved the year before. It would be so easy to dismiss 2020 as a complete washout and best forgotten, but there are many things I learnt about me, my life and my artwork. I am not being flippant, it was hard, I missed so many loved ones and friends, but I have learnt to do more of the things I love and as a positive person, I am determined to take the positive aspects of 2020 forward.

Telling an artist to isolate themselves, doesn't really change their daily life… this is something I have battled with throughout my adult life as an artist. For those who have met me, I am an outgoing social butterfly, but 9-5 daily I am on my own working away in the studio. I rely heavily on my cat to socialise with me, and chatterbox that I am, I tend to talk to her too. I have built in several social things into my business, like teaching once a week at Guildford Institute and my one-to-one students. In March 2020, I lost this all overnight, so I moved my art tuition online. This was very different, I met new students from all around the country and reconnected with past students.
Ironically during lockdown, I was less isolated than I normally am because my husband was now working from home; we would spend lunchtimes going for long walks and chatting. Obviously, our social life has completely stopped since March, but on a daily basis, I could talk to another human being AND the cat!

As you may know from my previous blogs, we live in a rural part of Sussex, so we see very few people generally. Our walks on local footpaths meant we met (well, shouted at from a 2 metre distance) some of our neighbours living on the next door farm. We have been fairly isolated from the virus; for me 2020 was the ideal opportunity to re-evaluate my life and creativity. I have been able to do the same amount of exercise I used to do in my early twenties, from walking, dancing (at home alone), yoga and meditation every morning and 4-6 hours of archery a week. I finally finished my crochet blanket for the bed, which I started 7 years ago and I have also taught myself several other crochet techniques and made tablemats and purses.

With my huge reduction in travelling to and from students, I have spent a lot more time in the studio too, because even though I love all my past times above, drawing and painting to me is as essential as breathing. I took the opportunity to clear out the studio and make it into a better working space,

I am also very proud of all the time lapse photography that captures me drawing and painting in progress and the short videos I have filmed for my website chatting about my work in more depth.
I think 2020 has been my most creative year since I was at art college, and I thought I would share the artwork I have created this year below. There are more unfinished works in progress than ever because I work by building up thin layers of oil paint to create colour depth and intensity and detail, which I can only do this once each layer is dry.
I started the year drawing portraits of insects to raise their profile, these are wasps and a fly, none of which are loved but crucial to our landscape.



I then finished the two paintings below, neither are what they seem; the one of the left has a skull incorporated into an orchid and the painting on the right are Crocosmia painted onto a spine and ribcage. Both paintings belong to the Lifecycle series which looks how all parts of the lifecycle is reliant upon each other, we can't have life without death and decay.


I also completed my first two paintings of the Florasphere series where I am looking at the landscape beyond what we can see close to us, such as flowers and seedheads,


This painting is a work in progress from the same series,


Honeysuckle was the first painting I painted live on Zoom, I still want to do another of these broadcasts but I since doing that, my time has been taken up working on 5 commissions for book illustrations.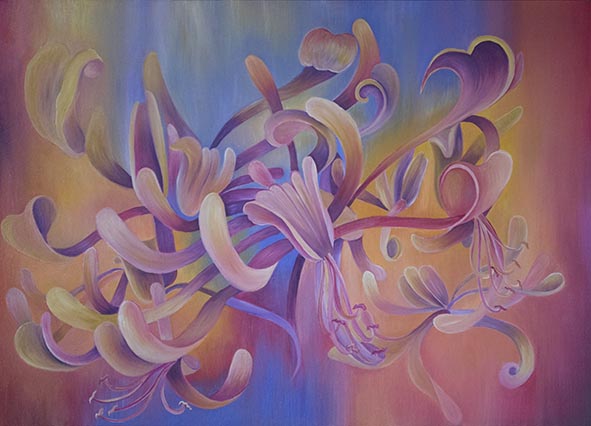 The dawn of Autumn reminded me how much I love a variety of different leaves in different stages of life, again, all currently unfinished works,

The dawning age of decadence – I strongly believe that the decade of the 2020's will be great, it will be full of parties, fun, elaborate and beautiful art works, upbeat music and outrageous clothes. This is because after any catastrophic event within culture, there is a backlash to the good times which always develops into a period of decadence. For example, the 1920's and 1930's after World War I and Spanish flu, the 1960's after World War II, and the 1980's after the financial hardship of the 1970's. I have been finding my art work is also becoming more elaborate and decorative, all these pieces remain unfinished,
Mother Nature
I have started to add the foreground over the background on my tree painting which includes "Mother Nature" and will be part of the Secrets of Nature series. The figure is yet to be painted so I have included my biro sketch of what it will look like.


Mother Nature II
Another painting very much in progress, as the top colour of the face is yet to be painted but I have started painting the detail in the bottom right corner.

Looking back, 2020 could have been a lot better, as it had many disappointments and loss, but it also had positives. Life really is a rollercoaster and 2020 definitely felt we were picking up far too many "chance" cards on the Monopoly board and far too many of us missed passing Go!! However, the lower amounts of travel everyone has been doing did benefit the environment by reducing emissions. Once life returns to normal, I think if more meetings in the future can be done online, it would continue to benefit the environment and in turn our own health and quality of life.
For 2021, I plan to build upon the things I have learnt in 2020 to make this year better for me, those around me and the environment. As I write this I hear we have now been put into a third lockdown, so I wish all that read this, the very best for 2021. I will be attempting to take my positivity forward into lockdown number 3 and see what I can discover both creatively and philosophically. Wishing everyone a happier and healthier 2021 and hope you too can remain positive and discover something new.
I hope you have enjoyed the snapshot into my studio from 2020, if you are interested in any of the paintings I have shown you, just send me an email to art@claire-harrison.co.uk for these to be reserved for first refusal.

January 2021